Knee Prosthesis
WHAT IS KNEE PROSTHESIS?
If it is deemed appropriate to apply prosthesis treatment as a result of wear, damage and permanent damage to the knee joint, the knee replacement surgery is performed. The knee prosthesis is an artificial knee joint made of a mixture of metal and polyethylene. The replacement of the artificial joint following a surgical route is called knee replacement surgery.
HOW DOES THE KNEE JOINT GO BAD?
The cartilaginous structure in the knee joint becomes worn over time due to friction and loses its function.
Some inherited diseases may result in knee problems.
Impairment of blood flow in the knee joint for various reasons.
Knee diseases can also occur after rheumatic diseases.
Since being overweight will strain the knee joint, a number of knee diseases may occur.
WHO CAN APPLY A KNEE REPLACEMENT? WHO IS IT SUITABLE FOR?
Knee replacement; It is suitable for patients who have permanent damage to the knee joint and have no effect on non-surgical treatment (physical therapy, drug therapy, etc.).
If the patient has a painless walking distance of less than 300 meters.
Patients who use painkillers every day due to pain should have knee replacement surgery. Liver and kidney diseases may occur in patients taking continuous medication.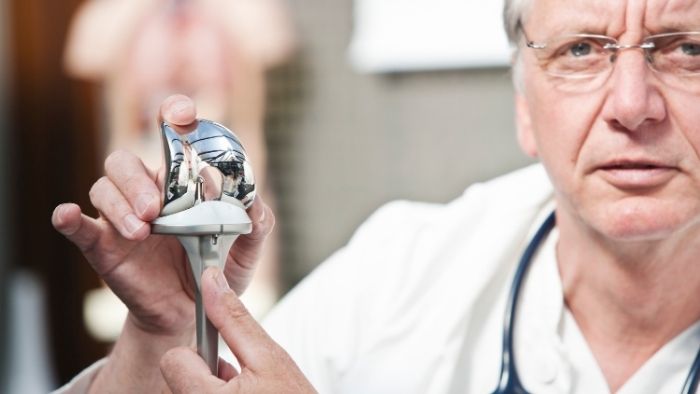 BEFORE KNEE REPLACEMENT SURGERY
In all other prosthesis surgeries including knee prosthesis, it is checked whether there is an infection in the body of the patient to be prosthesised. If the patient who is going to undergo knee replacement surgery is using blood thinners: According to the medicine he/she is using, he/she should stop using it 5-10 days before the operation and instead he/she should use a lower dose of blood thinner needle. When the risk of bleeding has disappeared in the postoperative period, the patient can use the medications he / she needs to use again.
HOW TO AVOID INFECTION RISK AFTER KNEE REPLACEMENT?
Patients with prosthesis in their knees carry a risk of infection during their lifetime. Patients with prosthesis must take preventive antibiotics just before all surgical procedures, including dental extraction and filling. Otherwise the risk of infection will increase.