Hip Replacement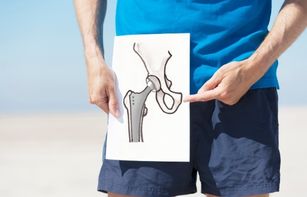 Hip Replacement
Hip Prosthesis is called artificial joints made of metal, metal-ceramic mixture or polyethylene which are used in the surgical treatment of deformities resulting from congenital hip disorders, excessive strain of the hip joint and severe impacts of the joint.
Why does the hip joint fail?
It may develop during birth or as a result of some inherited disorders.
It may develop as a result of calcification when the cartilages in the hip joint lose their function.
Rheumatic disorders.
Disruption of joint cartilage due to untreated hip dislocation.
In advanced age
It may develop due to old age.
Disruption of the hip joint due to hip fracture as a result of bone resorption.
Pathological fracture as a result of weakening of bone structure due to bone tumor or cancer metastases.
Who Should Undergo Total Hip Prosthesis Surgery?
If pain caused by calcification has progressed to reduce the walking distance to less than 300 meters, the patient should be treated as soon as possible.
ANYONE WITH AN ACTIVE INFECTION IN THE BODY IS NOT SUITABLE FOR PROSTHETIC TREATMENT.
WHAT ARE THE TYPES OF HIP PROSTHESIS?
In hip replacement, when both hip bone and hip socket are changed, this is called Total Hip Prosthesis and if only hip bone is changed, this is called Partial Hip Prosthesis. The type of prosthesis to be placed in the patients can only be decided by the orthopedic surgeon who evaluates the patient.
If bone cement is used in the prosthesis, it is called a cemented prosthesis and if it is not used, it is called a cementless prosthesis.